Atma Nirbhar Bharat this "vision" has always existed in our five year plans with special policy and programs to take Bharat towards Self Reliance. State Financial Institutions and Nationalized Banks played a vital role to create a large number of Start-up Entrepreneurs thus creating an entrepreneurial environment. However, compared to the support available for Micro Small Medium Enterprises (MSME), the takers were not as many.
I began my journey as a Woman Entrepreneur in 80's when our country under the license raj had product reservation policy for small enterprises by reserving about 345 products for small scale industries. We had everything made in India including Ambassador and Fiat cars, when the other developing countries like Pakistan, Sri Lanka and Bangladesh imported everything for their country. As an entrepreneur, I have enjoyed this policy, programs, and made profits.
Things changed with open economic policy in 90's, we became the part of Global village and Entrepreneurial supply chain, our agri and industrial Self Reliance status had been threatened as we allowed other countries to sell their products in India.
With a firm belief from my own experiences that economic empowerment is a powerful tool to be used as a starting point for overall empowerment of the women, the first experiment of this strategy was initiated in 80s by me when most women development activities were welfare oriented, in which women were considered "acceptor" and not an active participant.
I initiated the first programme, termed as Entrepreneurship Development programme for women in Gujarat, wherein they were supported to begin non-traditional businesses. This clearly demonstrated the sustainability of the development approach at women's economic empowerment.
In 1986, I transformed my entrepreneurial experience into a developmental initiative and started "The International Centre for Entrepreneurship and Career Development (ICECD)". ICECD facilitated thousands of women to become entrepreneurs.
These women were taught essentially two things: (i) How to take charge of their lives with dignity and confidence, and (ii) How to initiate and manage their micro small enterprises, and their self-esteem and confidence blossomed.
---
My vision continues to be THE ECONOMIC EMPOWERMENT OF WOMEN, but the final mission is the achievement of FULL EQUALITY and TOTAL ALL ROUND DEVELOPMENT of WOMEN.
---
ICECD expanded the activities all over India and established itself as a premier organization in the country for Women's Economic Empowerment and developed thousands of women in Gujarat itself and pan India.
My commitment became instrumental in initiating and institutionalizing Women Economic Empowerment strategy in countries of Asia, Africa, Pacific and the Caribbean. By now, the Women Economic Empowerment strategy has been taken to over 60 countries.
Opportunities, Issues and Challenges for Women in SME
Micro, Small and Medium Enterprises constitutes the backbone of our economy in maintaining an appreciable growth rate and in generating employment opportunities. This sector has been regarded as the engine of economic growth and social development in India and world over.
---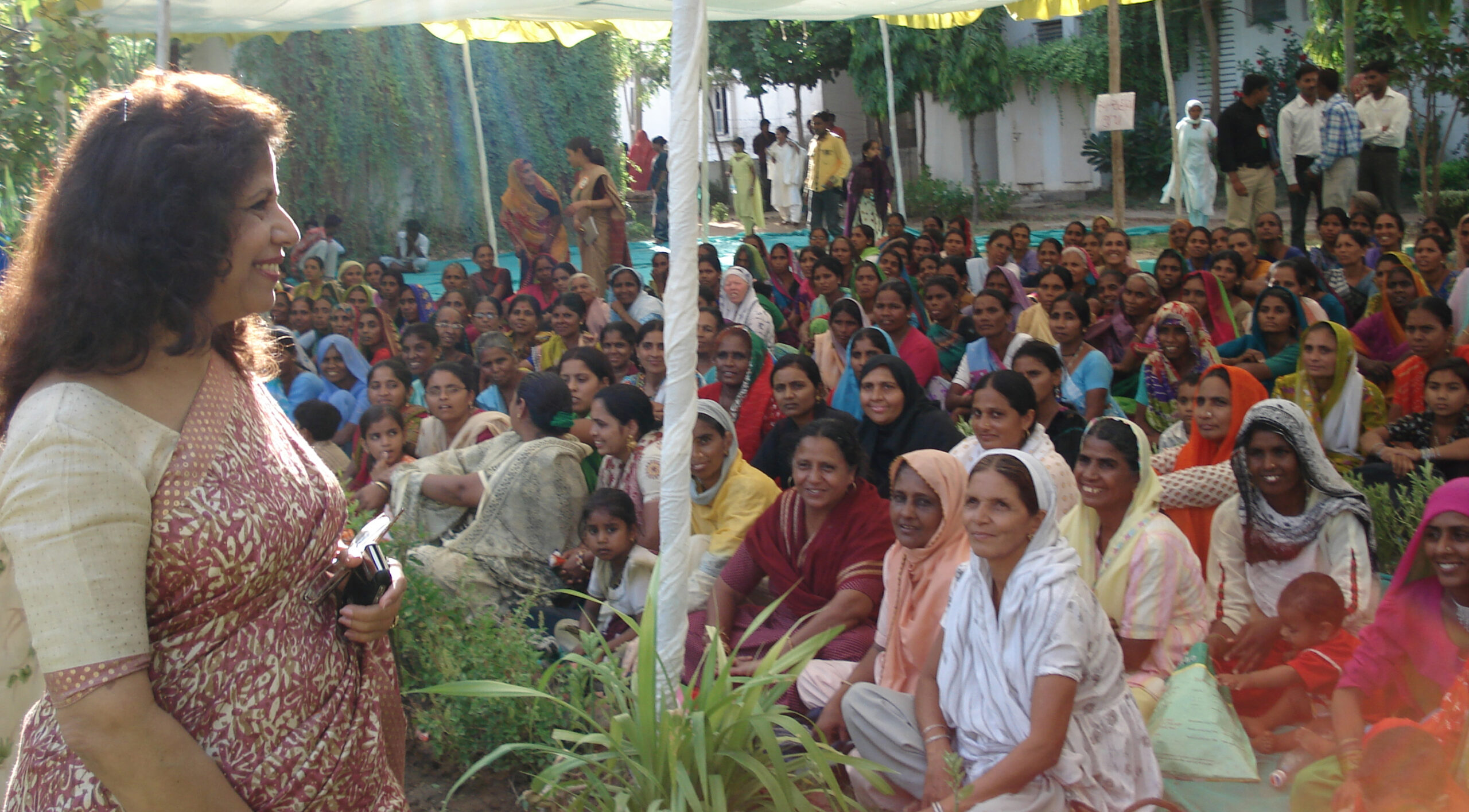 ---
In 21st century, women in Micro, small and medium enterprises (MSMEs) in India and abroad have demonstrated noteworthy contribution. Gujarat today represents the very best of India, in terms of the quality of infrastructure, global outlook of its business community, investor friendly policies, and speed of decision making in government. It is widely reckoned as the growth engine of India.
While the investment climate is clearly important for large, formal sector firms, it is just as important for Small and Medium Enterprises (SMEs), the informal sector, agricultural productivity and for poverty reduction. We are making great strides in these spheres and interestingly women are slowly becoming important players.
It is indeed a great time to be here. A time to dream great dreams. There is a tremendous upsurge of economic activity. Western and Southern states resurgent economy is undergoing a rapid transformation, as if the energies of the states are bent by a common urge to be economically strong and to eradicate the evils of poverty and misery of the masses.
Women contribution in MSME sector is extremely crucial in addressing the national objectives of bridging the rural-urban divide, reducing poverty and generating employment to the teeming millions and making Swanirbhar Bharat. However, women in this sector experience several constraints and challenges which remain to be addressed.
These include:
 Equity as a source of financing is underutilized and the prevalence of investment by venture capital and angel investors is low,
 Women Entrepreneurs face the problem of delayed payments from their buyers which adversely impacts their working capital as well as their next cycle of production,
 Women lack adequate information about various schemes and benefits available from the government,
 Financial institutions/ Banks face challenges in credit risk assessment of MSMEs as such and more from women entrepreneurs, and
 Interest for the utilization of the available credit guarantee and insurance schemes by banks has been low amongst women.
Today existing women enterprises are at different level, which are traditional small company, planning for growth, take-off from existing conditions.
The major challenges confronted by these women enterprises include; lack of adequate credit and capital, poor and inadequate infrastructural facilities, inadequate access and marketing linkages, technological obsolescence and inadequate application of new technology, lack of skilled human resources, dilatory and cumbersome regulatory practices for clearance and poor adaptability to emerging international trends. This calls for the need for strategic intervention to improve coordination and linkages between various stake-holders including the Government, industries and other agencies/ associations working in this field.
"My vision continues to be THE ECONOMIC EMPOWERMENT OF WOMEN, but the final mission is the achievement of FULL EQUALITY and TOTAL ALL ROUND DEVELOPMENT of WOMEN. My efforts will culminate only when women from all strata of the society, particularly the disadvantaged and the poor, will achieve a sense of overall empowerment through meaningful participation and decision making at family, community and policy levels.
In future, I see myself having reached out to every woman of India, realizing my dream of seeing these women as independent decision makers, entrepreneurs and socially and economically empowered in the true sense."