Gone are the days when medical institutions, clinical professionals, physicians, and scientists were seeking human-driven chemicals to treat cancer. Today, they are unleashing the power of our bodies upon this malignancy.
This excerpt exemplifies the endeavors of one such persona who is embracing the immune system's imperative properties and harnessing those to fight cancer. Meet Dr. Xiaokui Zhang, the Executive Vice President and Chief Scientific Officer of Celularity Inc.
Her educational journey has seen her completing B.Sc. in Physiology from Nanjing University and a Ph.D. in Molecular Cell Biology from Rockefeller University. She has also attained post-doctoral training in the Functional Genomics Department of Novartis Pharmaceuticals.
It was 2003 when her professional career took a flight to lead a discovery team at Helicon Therapeutics alongside conducting target identification studies in cognitive disorders for three years. Further, from 2006 to 2017, Xiaokui stirred various high-end profiles at Celgene Cellular Therapeutics, including Director of Discovery Research and Senior Director of Research & Development. The span was driven by the development of novel immunotherapy candidates derived from placental progenitor cells and initiated clinical trials.
Altogether, from being a passionate scientist to a proud mother and wife, Xiaokui has kept no stone unturned in exploring aspects from all walks of life.
About Celularity Inc.
Founded in 2017, Celularity Inc. is a next-gen biotechnology company leading the evolution in cellular medicine by delivering off-the-shelf allogeneic cellular therapies, at an unparalleled scale, quality, and economics. A spinout of Celgene Corporation, Celularity's innovative approach to cell therapy unlocks the unique therapeutic potential within the cells of the post-partum placenta.
Under Xiaokui's aegis, the company is transforming the cellular medicine realm with Placental-derived T cells, Natural Killer (NK) cells, and Pluripotent Stem cells. These efforts are satisfying the unmet clinical requirements for cancer, infectious, and degenerative diseases. Out of which, NK cell therapy is going through an investigation for the treatment of Acute Myeloid Leukemia (AML), Multiple Myeloma (MM), Glioblastoma Multiforme (GBM), and COVID-19.
---
---
Talking about the company Xiaokui says, "We strive to ensure the scientific rigor in daily research and development activities to enhance our understanding of the mechanisms and pathways that regulate the immune system's response to cancer".
The company integrates deep-seated collaboration to accelerate product & clinical development, translational research, and cell manufacturing. It's putting its best foot forward in bringing cell therapy to the center stage of cancer immunotherapy and functional regeneration medicine.
Significant Bits of Motivation
As a teenager, Xiaokui was captivated by the persistence and characteristic optimism of Jane Goodall's 'In the Shadow of Man'. It's the exploration, discovery, and unraveling of unknowns of the book that inspired her to strive for the wellbeing of the living. It prompted her to start an educational voyage in the earlier mentioned fields and understand the mechanisms underlying human body function to the core. Her mom, who was one of the few female leaders in universities, was also particularly strong influence in her life. "It was her support and her believe in me that helped me be where I am at today," Xiaokui said.
Another vesicle of motivation is the opportunity and guidance provided by Dr. Robert Hariri, MD, Ph.D., the Founder & CEO of Celularity. His vision to develop placenta-derived cell therapies and biomaterial products that transform cell therapy and personalized medicine completely resonates with Xiaokui's thoughts.
---
It is crucial to understand what you want to do, where you want to reach and to define the goals for your career. While you focus on those goals and follow the path forward, remember you are not alone and that you don't have to fight your battles on your own.
---
She developed a passion for quality patient care and the capabilities to align personal aspirations with the company goals through this league. Xiaokui is overwhelmed to be a scientist in an organization driven by a talented group of women who inspire her to be the best version of herself.
Today, these motivational pieces help her in discovering effective cell therapy for treating debilitating diseases and improving patient lives.
The Vortex of Challenges to Overcome  
The current digital age has witnessed major advancements across basic and medical research that have resulted in the successful application of immunotherapy for cancer. Examining and understanding the science and translating that potential into the clinic has been the center of all. Besides, innovations in science and bioengineering are being rapidly integrated to build robust technology platforms thereby, improving the lives of patients.
In 2013, Science magazine deemed cancer immunotherapy as the 'Breakthrough of the Year'. In 2017, Chimeric Antigen Receptor (CAR)-engineered T cells were approved by the Food and Drug Administration (FDA) to enter the practice of medicine for the treatment of Leukemia and Lymphoma.
---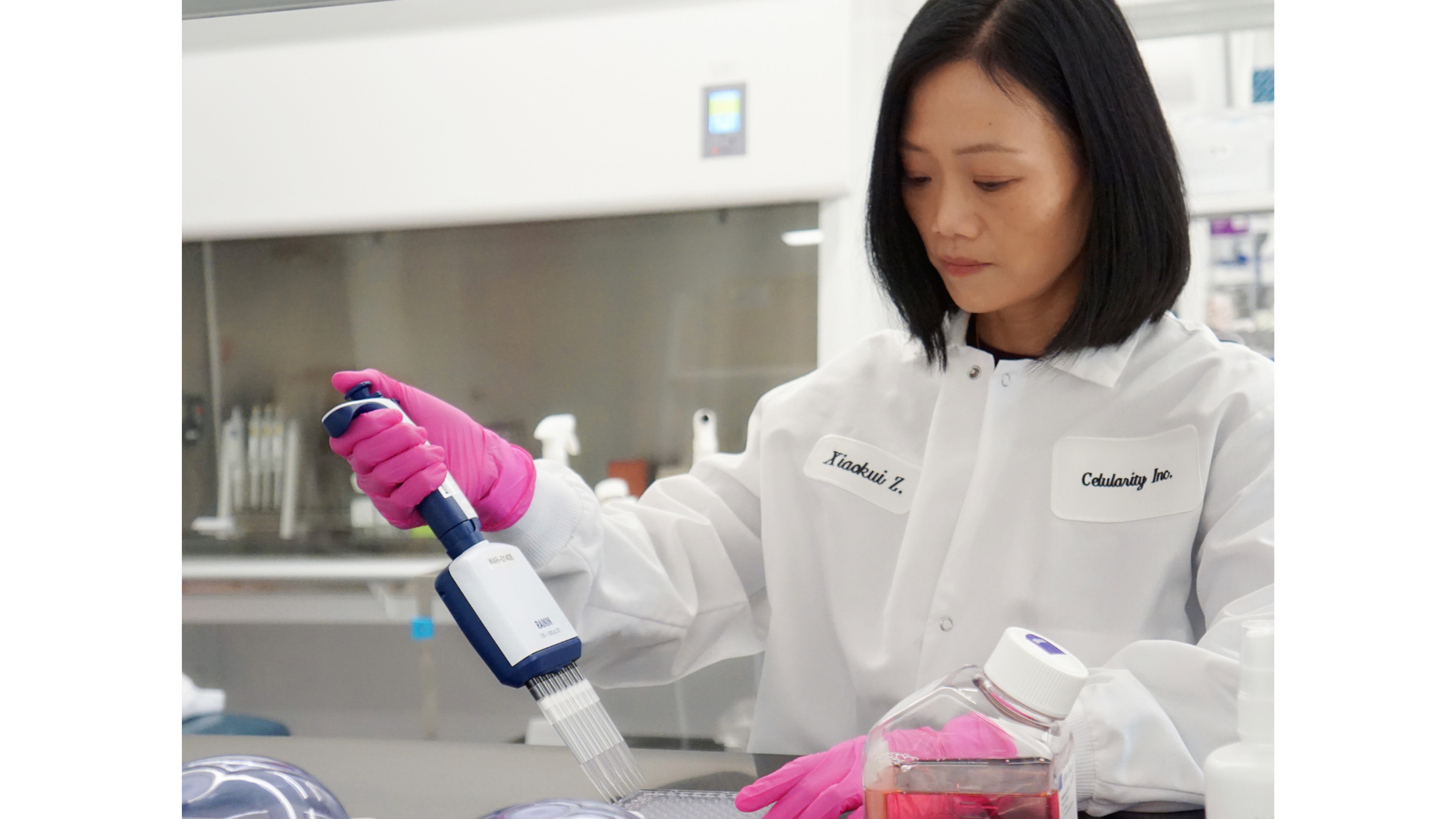 ---
Despite these advancements, Xiaokui sensed some major challenges whirling amid the field of cancer immunotherapy:
Establishing an effective end-to-end supply chain for cell therapy
Key biomarkers to predict treatment efficacy and patient response
On-demand availability of effective therapy
Making treatments competitive
Acknowledging this scenario, she channelized all her thinking capabilities to generate a readily available, safe, and efficacious therapy framework, at Celularity. Currently, Xiaokui along with her innovation-driven pool of professional scientists and bioengineers are consistently engineering effective patient-centric solutions.
With such vitality at the helm, they have successfully managed to overcome the mentioned challenges with their exhaustive R&D and are delivering transformational changes for more than three years now.
Keeping a futuristic approach at the forefront Xiaokui says, "My passion is to build and grow teams while continuing to develop and advance therapies that improve patients' lives. I will continue my endeavors in cell therapy and immunotherapy, working collaboratively with others to deliver truly innovative and life-changing therapies for patients."
Xiaokui's Take on Making a 'Difference as a Women'  
More women in leadership roles is correlated with stronger financial returns and better business outcomes in the corporate world, says independent research. However, women are still underrepresented in executive, decision-making roles and are judged unfairly as a leader who can make a difference. Their confidence is undermined by gender stereotypes, by which, efforts to constantly prove their leadership capabilities never go out of sight.
---
---
To outcast such situations, Xiaokui says, "Women should maintain self-confidence, talk openly about their accomplishments to get noticed and go after what they want fearlessly. Also, having talent development programs, coaching, and mentoring programs can make sure that women are effectively empowered in various roles."
She believes that a successful woman has the potential to take on more responsibilities and accepts the challenge of attaining equilibrium across personal and professional life. These conditions can be better managed by establishing a strategic and realistic career and personal goals followed by communicating with those who can help achieve these goals.
Xiaokui also believes that glass ceilings are real barriers that women should be aware of and then break in the mind. This act provides strength and assurance to work out strategic plans. Concretely, a woman needs to stay focused, manage priority and conflict, and allow flexibility in scheduling to create a prominent niche and gain a competitive edge.
A Note to Remember
"It is crucial to understand what you want to do, where you want to reach, and to define the goals for your career. While you focus on those goals and follow the path forward, remember you are not alone and that you don't have to fight your battles on your own," states Xiaokui.
"Build networks and mentorships to ensure that you are supported and empowered, identify skills that should be developed or improved upon, take the initiatives to increase your visibility, then drive your career development with full confidence and determination," she states further.
Mentorship in R&D within an academic setting proves effective for a mentee's development of skills, capabilities, and a career path. As such, it's necessary to proactively build mentor-mentee networks to unlock countless career opportunities in the longer run.