Diversity is a concept found throughout nature. There are tens of thousands of types of trees with varying shapes, sizes, leaves, fruits, and flowers. All different, all with various roles to play in the ecosystem and yet, all are trees.  Similarly, people all have unique characteristics and talents and are all human. However, some unfortunately let the differences obscure the value that each has to contribute.  Throughout Sheryl Battles life and career she has sought to help others celebrate both the uniqueness that distinguishes each of us and the humanity that unites us all.
Growing up in a small town, Sheryl Battles experienced racial segregation early in her school life. When she joined an elementary school in the second grade along with two other Black students, she learned what it felt like not to belong because she was 'different' from several others. However, it was also where she learned how affirming it feels when someone reaches out and includes you, acknowledging not only your differences but your similarities as humans.
Through it all her parents encouraged her, emphasizing that there wasn't something wrong with her that might cause some people to ignore her or be unkind. They also prepared her for the irony that while some might assume she was not as capable as others, they might still require her to do more than others just to get access to the same opportunity. They also taught her to love all of the aspects of her identity (gender, culture, race/ethnicity, etc.) irrespective of what others thought, or what it would require of her.
All of this shaped Sheryl into an overachiever, who grew and left no stone unturned to pursue and achieve her dreams. And today, She serves as the Vice President, Global Diversity, Inclusion, and Engagement at Pitney Bowes. She leads the company's strategies, operations, and storytelling at the intersection of diversity, inclusion, and employee engagement to help fuel business results and individual growth. She combines her extensive communications expertise, deep understanding of business strategy, strength in analytics, and passion for creating inclusive experiences.
Making Bold Choices
Sheryl graduated from Stanford University in Palo Alto, California with a degree in Human Biology. However, instead of taking the health care profession route, she chose a different career path. Throughout her career, she has gained experience in virtually every aspect of communications there is including speech writing and executive communications for 3 previous Pitney Bowes CEOs, investor/financial communications, media relations, internal communications, crisis management, thought leadership, and philanthropy and community investments. She has also applied her research, writing, and analytical skills to help direct and interpret research on business communications technologies and practices, co-lead complex projects such as the company's current exploration of the evolving ways of working, and design programs for enhancing diversity, promoting inclusion and increasing employee engagement.
Growing at Pitney
Pitney Bowes is a global shipping and mailing company that provides technology, logistics, and financial services to more than 90% of the Fortune 500. Small business, retail, enterprise, and government clients around the world rely on Pitney Bowes to remove the complexity of sending mail and parcels.
Pitney Bowes has several businesses. Its Global Ecommerce business facilitates domestic retail e-commerce shipping solutions. Presort Services provides sortation services to qualify large volumes of First-Class Mail, marketing Mail, Marketing Mail Flats and bound printed matter for postal workshare discounts. Sending Technology Solutions offers physical and digital mailing and shipping technology solutions, financing, services, supplies, and other applications for small and medium businesses to help simplify and save on the sending, tracking, and receiving of letters, parcels and flats.
Sheryl's tenure with Pitney Bowes has given her the opportunity to see the business landscape continue to evolve. Technology fuelled changes in product/service functionality, go-to-market, access and delivery, payment systems, and connections with clients, to name a few. Pitney Bowes is over 100 years old, and one doesn't reach that mark without the ability to successfully transform the value they deliver and the way they deliver it while maintaining the values that guide. For both the business, and Sheryl personally, that means ongoing learning, an openness to doing things differently, and increased nimbleness, while welcoming and embracing the richness that diversity of thought, identity, culture, and ethnicity brings.
Challenges- Just a Part of Growth
Challenges have always been integral to Sheryl's life and professional growth. Being a woman can add challenges. "While everyone wants to have their voice heard and their skills valued, we know that does not always happen. I know for example that the perception of my value is often viewed through the lens of my gender as a woman or the color of my skin. The reality is that no single aspect of my identity totally defines who I am or what I can do. Those preconceived notions of who I am, however, can sometimes block others from hearing what I have to say, or giving me an opportunity," says Sheryl.
---
A virtual meeting of several members of the Pitney Bowes Women's Inclusion Network (PB WIN) Core Team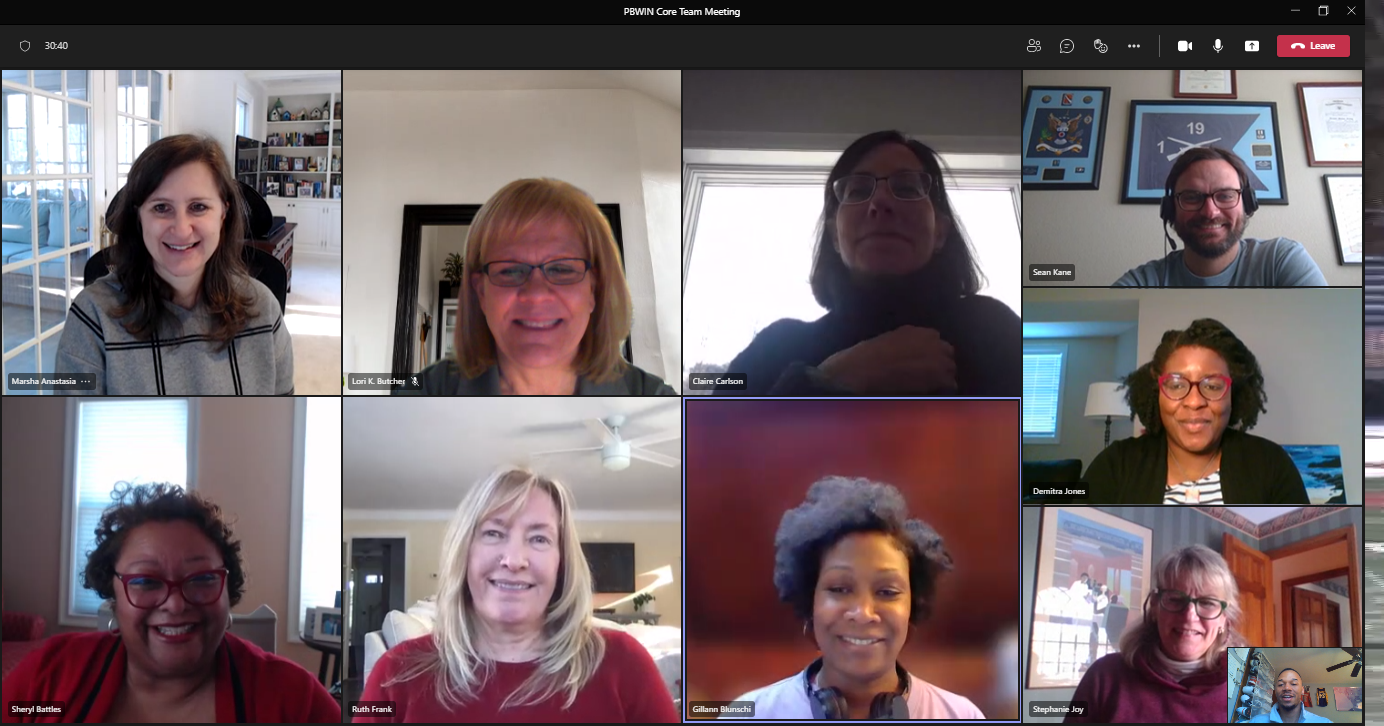 ---
Over the years, Sheryl has learned how to tackle those challenges at work. "It takes work to produce a breakthrough when you encounter the challenge of snap judgments, incorrect assumptions, or uninformed opinions of what you can or can't do because of your gender, or any other singular aspect of who you are. Thus, I look for ways to let my actions and results speak for me. They are the best antidote. When I produce results, it changes the conversation from speculation to observation. Others open up when they see the results. It helps break down potential barriers and increases understanding.
It doesn't mean, unfortunately, that one instance of performance will change everything, however. Some beliefs are so embedded that they may view your success as an aberration rather than the norm. The ideal case is that your consistency of quality performance over time will ultimately allow individuals and organizations to see you for who you actually are, rather than who they may have incorrectly assumed or expected you to be," emphasizes Sheryl.
Words of Wisdom
Sheryl has four-point advice for women who want to make it big in their careers:
First, learn how the business you're in now (or the one you're looking to enter) works.
The more you can understand how a business/organization creates value, the more you can see how your talents and skills can help it deliver that value.
Second, part of the necessary understanding of the business should include how to read its financials. Don't be afraid of the numbers. There is a story behind them. Learning about an organization's financials provides insights into its priorities, focus, and strategies. Understanding the numbers is about understanding the company's current state and its future.
Third, learn how to learn. Change is the only norm, and it is accelerating as technology evolves. The only way to not just keep up but stay ahead is through continuous learning and curiosity. Always be flexible and open to what lies ahead.
Fourth, and the most important, people matter. Individual and team success lie in the ability to listen, seek an understanding of differing perspectives, treat all with dignity and respect, and develop relationships and teams which enable all to be their best. Ultimately, as you continue to advance, it is not solely dependent upon your technical skills or knowledge, it is about your relationships with others and your ability to help them be their best as well.
Advancing Inclusion at PB
Sheryl's journey in life has been propelled by consistently demonstrating her knowledge, understanding, and ability to excel. She is proudly leading diversity, inclusion, and employee engagement at Pitney Bowes. 
Today, at Pitney, women comprise 50% of the Board of Directors and lead half of the Board's committees. Women are 43% of the company's global workforce and 28% of senior management. The global strategy which Sheryl leads, and the Chief Human Resources Officer's senior team that she is part of, is designed to attract the best talent and sustain an inclusive environment in which all can learn, grow and engage to deliver superior results. As part of the global diversity and inclusion strategy that Sheryl leads over the last several years, they have developed a series of initiatives to increase awareness, stimulate conversation and facilitate understanding and advocacy for women, people of color, and the LGBTQ+ communities.
While the emphasis is on these areas of diversity, the work actually benefits all employees which help them work together better, build stronger teams, and deliver more value to the clients and stakeholders.  Sheryl notes, "Pitney Bowes is a great company to work for because it has an 80+ year history of diversity and inclusion that is authentic and integral to its character.  The company seeks the best talent. Period.  And once part of the company, it works to give everyone opportunities to achieve and grow into their best self, so that collectively we can deliver more value to our clients and all stakeholders."
Sheryl, on a continuous path of learning, growth, and making an impact, seeks to help create a world in which to paraphrase Dr. Martin Luther King, Jr., we are judged by the content of our character and our deeds and not the color of our skin or our gender. A world in which inclusion of all is the norm and not the exception.