The world of travel and hospitality is ever evolving, with new destinations, experiences, and trends emerging constantly. Yet, amidst this ever-changing landscape, there are those who seek to preserve timeless traditions and create spaces that celebrate the beauty of nature and the camaraderie of outdoor sports. Darius Anderson, the Founder and CEO of Wing & Barrel Ranch, is one such visionary leader who has embarked on a remarkable journey to blend the rich heritage of outdoor hunting, fishing, and shooting with the contemporary world of hospitality.
Nestled in the heart of Sonoma, California, this premier club has become a haven for enthusiasts seeking not just adventure but also a connection to a rich cultural heritage and a unique establishment.
A Passion-Driven Vision
Darius Anderson's journey in the world of business and politics is as unique as it is inspiring. As the Founder and CEO of Wing & Barrel Ranch, Anderson has poured his passion for outdoor pursuits, such as hunting, fishing, and shooting, into creating a sanctuary that not only preserves these traditions but also ensures their longevity for future generations.
In his own words, Anderson's inspiration for Wing & Barrel Ranch stemmed from a deep love for the outdoors and the concern that the cultural essence of the west, particularly in relation to hunting and fishing, was gradually fading away. He wanted to establish a place that not only preserved this heritage but also possessed the financial viability to endure for a century and beyond. Anderson's vision was clear: to offer people a glimpse into the 18th and 19th-century hunting and fishing culture that has played a pivotal role in shaping the identity of the American West.
His career trajectory has been marked by determination and mentorship. Early in his career, Anderson was mentored by Ron Burkle at The Yucaipa Companies, a period that not only imparted valuable knowledge but also encouraged him to pursue his dreams and embrace new challenges. With this foundation, he embarked on the ambitious journey of establishing a diverse business portfolio and ultimately Wing & Barrel Ranch.
Overcoming Obstacles with Confidence
One of the defining features of Anderson's career is his ability to confront challenges head-on and use them as a vehicle to success. His journey was further complicated by being diagnosed with dyslexia at an early age, which made traditional skills like reading and writing a formidable obstacle. However, he didn't allow this condition to deter his ambition.
Anderson's resilience and willingness to learn from mentors and peers set him apart. He discovered that his unique perspective and ideas gained respect from others. This realization was transformative, boosting his self-confidence and propelling him forward. In the world of business, where confidence is often the key factor, Anderson's unwavering belief in himself became his driving force.
He acknowledges that confidence plays a pivotal role in business success. Regardless of personal or environmental obstacles, it is the cornerstone upon which achievements are built. He remains vigilant about addressing his shortcomings and has wisely surrounded himself with a team that complements his skills, reinforcing the notion that effective leadership involves both self-awareness and collaboration.
The Origin of Wing & Barrel Ranch
Wing & Barrel Ranch is the embodiment of Darius Anderson's love for outdoor sports and his commitment to preserving a vanishing cultural legacy. Anderson's journey into the world of hunting was initiated by his father, even though the elder Anderson was not a hunter himself. Over nearly five decades, his passion for outdoor activities grew, ultimately culminating in the establishment of this remarkable venture.
The realization that traditional hunt clubs often lease their properties, leading to their eventual redevelopment, was a pivotal moment for Anderson. He recognized that to preserve this cultural heritage, they needed to acquire and own the land. Thus began the journey to acquire, entitle, and develop the land into the iconic Wing & Barrel Ranch, complete with an exquisite clubhouse and a host of activities.
A Unique Blend of Activities and Experiences
Wing & Barrel Ranch is not merely a place for hunting, fishing, and shooting; it is a destination where the senses are stimulated, and memories are crafted. Anderson's vision for the club was to offer a comprehensive range of experiences that catered to the physical, mental, and culinary desires of its members and guests.
Physical Stimulation: The ranch boasts one of the finest clay shooting facilities on the West Coast, featuring 15 different stations, trap and skeet, a high tower, and a five-stand setup. Anderson and his team constantly strive to enhance the guest experience, catering to both novice and expert shooters, a challenging feat they've managed to accomplish.
Mental Stimulation: The salon series at Wing & Barrel Ranch is a testament to Anderson's commitment to intellectual growth. The series invites guest lecturers from various fields, including business, the military, and not-for-profit organizations, to share their unique journeys and insights. These lectures provide valuable takeaways that inspire members to apply these lessons in their lives.
Palate Stimulation: Anderson's desire to combine the culinary excellence of Northern California with the region's renowned wineries gave rise to a truly unique aspect of Wing & Barrel Ranch. The club collaborates with exceptional local vintners who share a passion for outdoor sports, ensuring that the wines served are not only exceptional but deeply rooted in the club's sporting culture.
Moreover, the club's winemaker dinners, hosted by acclaimed chefs like Charlie Palmer, create an atmosphere where members can savor outstanding cuisine while building lasting connections with fellow enthusiasts.
Innovative Programming for All Ages
Anderson's dedication to the preservation of outdoor sports extends beyond the present generation. Recognizing the need to introduce new generations to these pursuits, Wing & Barrel Ranch hosts a three-week kids camp during July. This initiative is a testament to his commitment to recruiting and retaining new participants in the world of hunting and shooting.
Furthermore, Anderson has made it a priority to ensure that Wing & Barrel Ranch is a family-friendly destination. The club actively promotes activities that foster an environment where families can bond over shared interests.
The Key to Hospitality Success
For Anderson, the key to a successful hospitality company lies in its employees. He emphasizes the importance of hiring individuals who not only excel in their roles but also share a genuine passion for the industry. The staff plays a pivotal role in delivering exceptional customer service and fostering a welcoming atmosphere.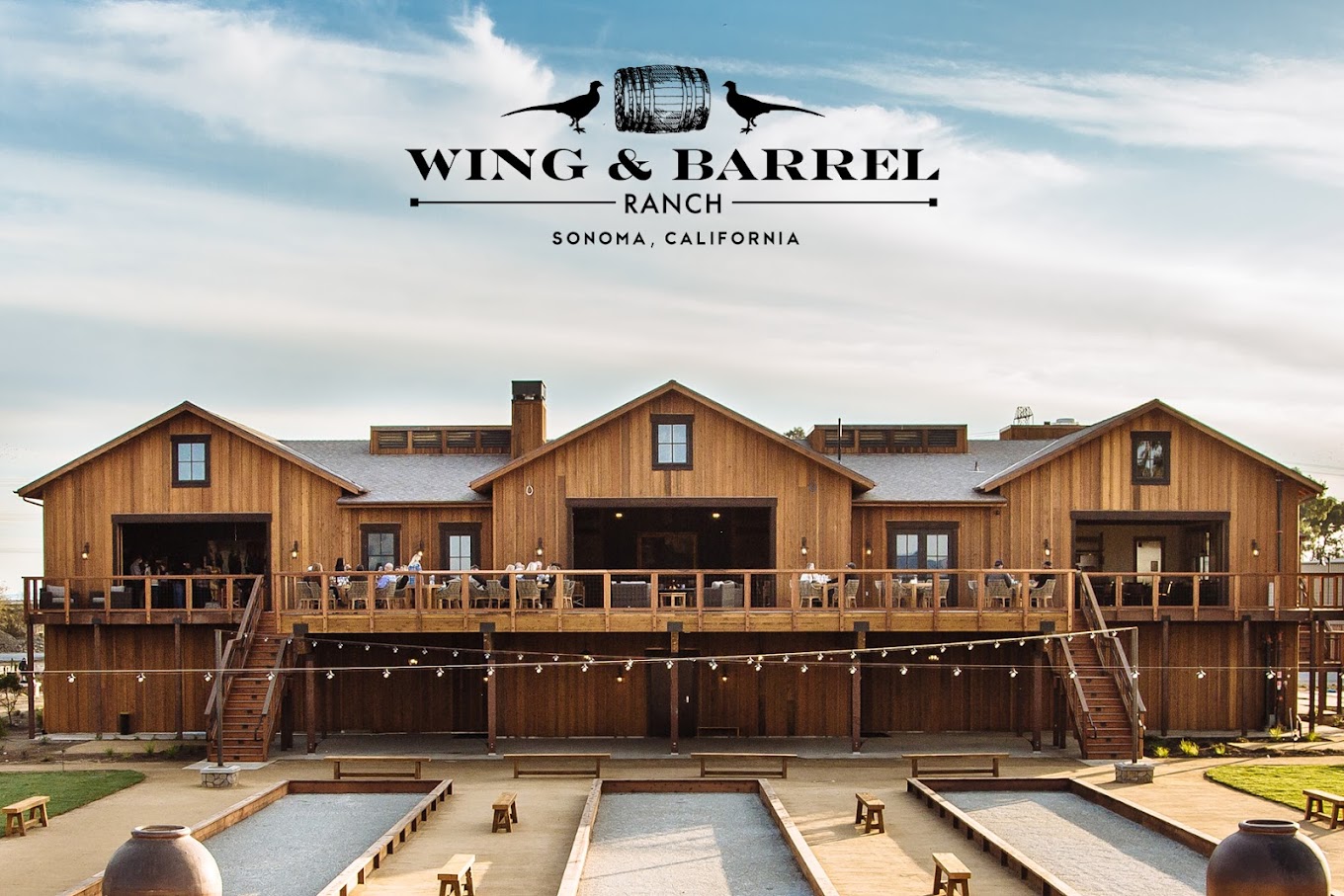 Additionally, Anderson highlights the significance of creativity and innovation. To remain competitive and appealing, the hospitality industry must continuously introduce new and exciting offerings. The ability to adapt, think differently, and embrace innovation is central to thriving in this dynamic sector.
The Path Forward: Goals for 2024 and Beyond
As Anderson looks to the future, he has set three key milestones for 2024:
Recruiting Great Members: Attracting new members who share the club's passion for outdoor sports is a top priority.
Maintaining Quality of Service: Ensuring that the high standard of customer service remains consistent and continually improved.
Expanding the Brand: Anderson envisions taking the Wing & Barrel model nationwide, creating new opportunities for enthusiasts to experience the unique blend of tradition and innovation that defines the club.
The expansion is driven by the desire to share the Wing & Barrel experience with a broader audience and to encourage cross-pollination between club locations.
Darius Anderson's Vision: Embrace Innovation, Have Courage, and Give Back
Darius Anderson's journey from a passionate lover of outdoor sports to the founder and CEO of Wing & Barrel Ranch is a testament to the enduring appeal of traditions and the power of innovation. In an industry that constantly evolves, Anderson's commitment to preserving the past while embracing the future is a shining example of leadership in the world of travel and hospitality. Wing & Barrel Ranch stands as a beacon, inviting all to experience the beauty of nature, the thrill of outdoor sports, and the pleasures of exceptional cuisine and wine in a setting where traditions never fade.
As Anderson aptly puts it, "Have courage of conviction when you come up with what you think is a great idea. Recruit the best and brightest to surround you and embrace failure and grow out of it." This philosophy has not only guided his personal journey but has also shaped the identity and success of Wing & Barrel Ranch.
A Commitment to Social Responsibility and Philanthropy
Embedded in the DNA of Wing & Barrel Ranch is a deep commitment to social responsibility and philanthropy. Through The Wing & Barrel Foundation, Anderson and his team are dedicated to several key causes:
Bringing New Participants into the Sport: The foundation aims to introduce women and children to outdoor sports, fostering a passion for these pursuits from an early age.
Honoring Veterans: Recognizing the service of men and women in the military is a core pillar. Wing & Barrel Ranch actively engages in activities that show gratitude to those who have served their country.
Conservation and Climate Impact: The club is dedicated to conservation efforts that complement and support climate change initiatives. Preserving natural spaces and habitats is an integral part of their mission.
Promoting Diversity: Ensuring that diversity is reflected in both employees and members is a vital component of their approach. Wing & Barrel Ranch seeks to create a more inclusive and representative environment.
Qualities of a Successful Entrepreneur
For Darius, confidence, humility, and the ability to laugh at both successes and failures  key qualities for entrepreneurs. In today's world, balancing self-promotion with humility is essential. Additionally, the ability to surround oneself with a dedicated team and maintain perspective on life's priorities are crucial attributes.
Advice for Aspiring Entrepreneurs
Darius's advice to those entering the hospitality space is to stay creative, innovate constantly, and remain ahead of the curve in providing unique experiences. In the world of outdoor sports, preserving access to these activities for all individuals, regardless of their background or income, is vital. Embrace challenges and view failure as a means of growth, and above all, enjoy what you do.
Darius Anderson's journey is a testament to the transformative power of passion, innovation, and a commitment to preserving traditions. Wing & Barrel Ranch, under his leadership, serves as a living embodiment of these principles, inviting all to partake in a world where heritage and modernity coexist harmoniously.