A global footprint, billions of dollars in assets, access to cap table of every Unicorn. These were just some of the milestones Aradhna Dayal, founder and CEO of Access Alts Asia, had on her horizon as she strived to build one of the most powerful networks of investors and entrepreneurs, based out of Hong Kong.
But as Covid-19 reverberated around the globe, it changed the world order, decimated businesses, and spooked the investment world. For Aradhna, it created the ultimate storm. She could either play it safe, shut down her investment club, and see years of blood and sweat get washed away. Or she could make the most of the upheaval, back the "businesses of the future" and create the biggest "Impact" of her life.
Those who know Aradhna would not blink twice before picking the latter. And that will expect her to add a few kickers to up her game. So it was no surprise that Aradhna re-focused Access Alts on business preservation, regrouped her investors on a digital platform and decided to back ideas will change lives in the post-Covid world.
Genesis/ Journey of the Company
Aradhna moved to Hong Kong in the late 1990s and set up her family investment office, having a front row seat to the transformation in Asia's financial markets. From sleepy backwaters, countries like China, India, Vietnam and Indonesia were turning into economic powerhouses, and Aradhna could see the potential for global investors to come in.
However, Asia was seen as opaque and hard to access. Aradhna saw this niche and leveraged her wide global network to bridge this gap. She says that business families are inherently entrepreneurial and they like looking at new geographies. However, they prefer coming through a trusted network. Aradhna provided the perfect conduit for global families to come and invest in Asia, and thus was born the idea of Access Alts Asia.
About Access Alts
Started as a simple idea-sharing platform in Hong Kong five years back, Aradhna led AccessAlts' exponential growth into an influential, global "members-only" investment club with over 350 members, channelizing smart capital into transformative companies in Asia. The club brings together some of the world's most influential business families, institutions, strategic investors, and captains of industry with two primary goals: invest in high-alpha alternative investments and build billion-dollar cross-border businesses. Families such as the Rockefellers, the Sinegals (founders of COSTCO) and the Kanoos have all been a part of the Access Alts journey.
---
---
Access Alts also pioneered the concept of discreet, intimate Member Meets in key financial centres: New York, Dubai, London, Washington, San Francisco, Hong Kong and Shanghai, giving the club a global footprint.
Through AccessAlts, Aradhna inadvertently created the first East-West investment bridge that tied global family offices together.
Challenges Faced and Achievements
Aradhna has received several awards in recognition of her contribution to the world of entrepreneurship, women leadership and society. In 2021 she was awarded the American Chamber of Commerce "Women of Influence Award" while in 2019 she received the Purviz Shroff Women of Inspiration Award for Leadership. In 2020, Aradhna was invited by The Milken Institute to lead discussions on Global Women Leadership in Abu Dhabi. In 2019, Access Alts was invited by Warren Buffet to take a delegation to the annual Berkshire Hathaway AGM, seen as the Mecca of the investment world.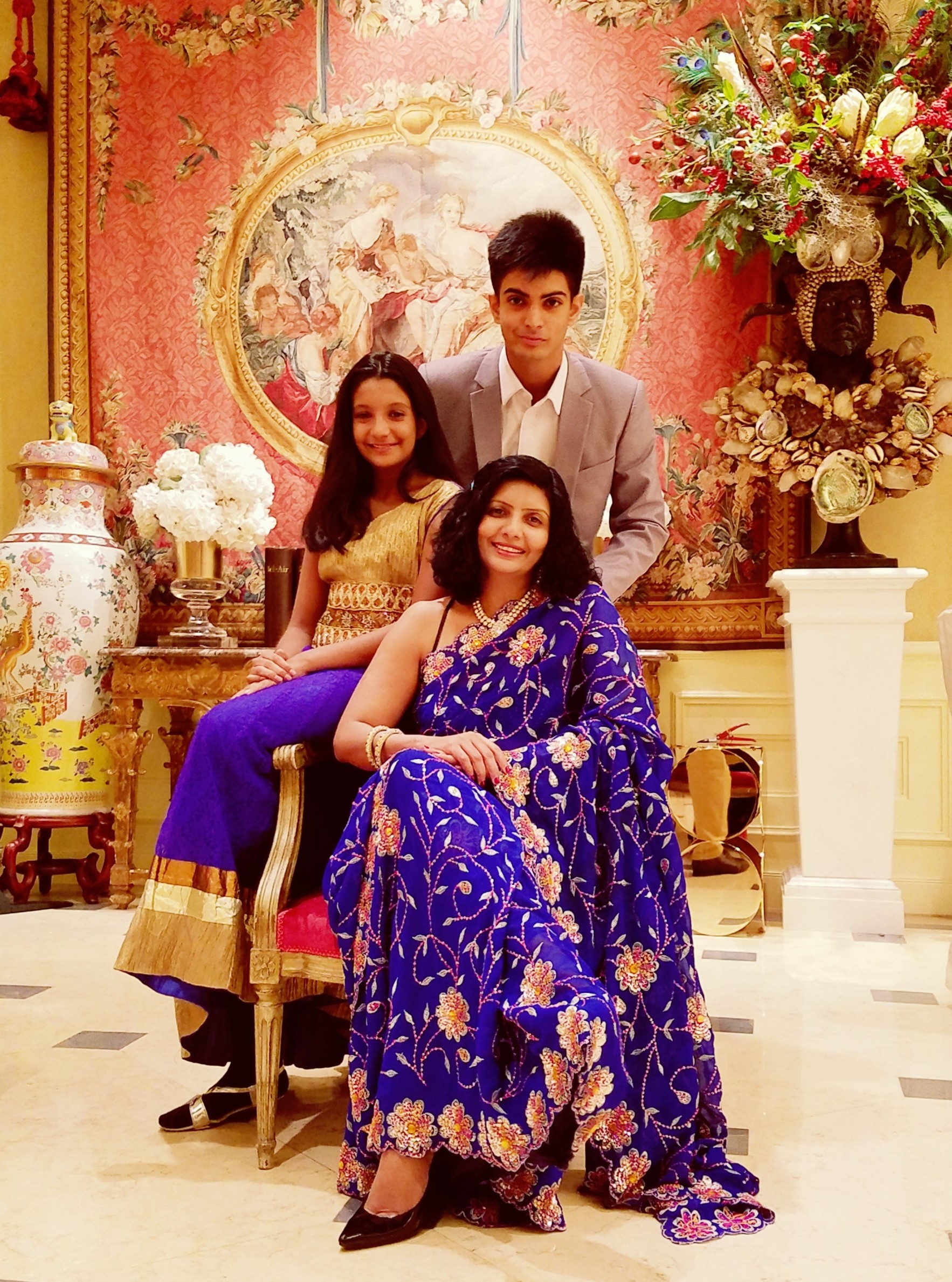 However, her journey to building Access Alts was far from easy. "I was a devoted mom and the idea of building something so global, so public, was intimidating. My rite of passage, funnily enough, came from a 4 am conversation with my then 16-year old son, who advised me to 'Go into it like a Man.' I wasn't sure what that meant at the time, "but now I understand that he was telling me not to hold myself back just because I was a woman," says Aradhna.
On a professional front, earning her credibility in the highly male-dominated world of investment was another challenge. Galvanizing a global network was the next. Aradhna remembers traveling for over 400 days to 30 cities in the first three years, working through different time zones, losing track of days, and eventually winning supporters through her deep knowledge of Asia.
Just as Access Alts felt invincible, it got hit by Covid-19. As a people-focused business, and all physical meetings cancelled for 2020, it had evolve, and fast. Overnight, Aradhna turned it into a 360-degree consultancy that not just did invested but also formed a support community for businesses gasping for air. Since then, it has backed transformative technologies powering the Future of Work, Healthtech, Ethical Ecommerce, Digital Infrastructure, Disruptive Logistics, Education Portals and more.
Source of Motivation
 "I am passionate about people and connecting them as global communities. For as long as I can remember, my biggest joy has been traveling the world, eating at local haunts, chatting with cabbies, exploring cultural nuances, and understanding what makes people who they are.
I am also passionate about social justice, about global challenges that threaten humanity's future, and about harnessing the power of people (and technology) to solve them.
In many ways, AccessAlts is my way to create an interconnected community of remarkable people from all around the world who are passionate about making a difference and protecting our future." states Aradhna, when asked about what keeps her motivated.
Advice to Young Women
Whether at entry-level or in boardrooms, women face unconscious biases every day. However, Aradhna believes that Covid has created a level-playing field for women in the corporate world. Digital businesses, in particular, are gender-agnostic. Amidst this, Aradhna encourages young women to build confidence, skills, networks and a determination to emerge as game-changers.
She also advises them to learn the art of Pivoting. "I encourage my protegees to adapt and think out of the box to increase revenue, stay profitable and focus on ethics to build a sustainable brand. There is no quicker way to gain respect as a woman leader than to enhance the bottom line."
Most importantly, Aradhna advises young women to NOT crave perfection. "As women, we are conditioned to be perfect: perfect mothers, perfect wives, perfect daughters-in-law, in addition to being perfect professionals. But that is humanly not possible. So embrace your imperfections and build a tribe around you that gets you and holds you when you fall."
Future Perspective
Seen as an icon in the female entrepreneurship space, Aradhna wants to leverage her network and skills to create the maximum impact. "I have always been passionate about creating a "just" and diverse society that provides equal opportunities to all," says Aradhna. "Covid has allowed me to take a pause and think about the legacy I want to leave behind."
With that in mind, Aradhna has launched a Women on Boards initiative that mentors talented young women and handholds them towards corporate boardrooms. Along with her children, Pradyumn and Pankhuri Dayal, Aradhna runs Move4Migrants, an aid organization that empowers migrant and minority communities.
Finally, through Access Alts, Aradhna wants to direct capital and resources towards technology that creates a fairer world. "I am going to be 50 next years and realize that the real joy of life is in creating social ROI, not just financial ROI."