Driven by the mind, led by the heart
 Ankie van Wersch knows business. 18 years of experience in the corporate world, first as part of a major US based FMCG and then as a corporate consultant, have given her a deep understanding of the incentives and requirements that drive 'traditional' business, which is why she knows things have to change.
"We live in a world with no shortage of problems. From financial access and inequality to plastic pollution and the climate crisis, the scope of the challenge we face is enormous. We all know something needs to change, but what? I believe businesses that aim for more than just profit have the power to build a better future and an economy that serves both people and planet."
Before joining Enviu, it was in Nepal in 2006 that Ankie realized she wanted more than a career that simply challenged her mind. The Nepalese civil war had just ended and in the ensuing chaos, Ankie saw first-hand the challenges that faced the nation's dislocated and disadvantaged children. No matter how gifted, no matter how hardworking, a fundamental lack of access to education meant these children had no future and no means of escaping a desperate situation. Ankie was resolved and in the same year founded the Tika foundation which today provides education, food, safety and shelter to nearly 1000 children in Nepal. Awakened by this experience, her desire to create positive change grew, leading Ankie down a new path. One driven by her mind, but led by her heart.
The path led to Enviu, one of the most innovative and exciting venture-building studios. Ankie joined, determined to focus Enviu's expertise and passion for impact.
How Enviu builds world-changing companies
 Enviu uses the power of business to build an inclusive economy that serves people and planet. As a serial entrepreneur Enviu, identifies a problem, ideates business solutions, validates them with lean tests then builds impact driven businesses (impact ventures). The ventures Enviu builds generate profit and create impact with a view to inspiring and influencing the market to adopt new sustainable models. As one of the world's first venture building studios to adopt a steward ownership model, all the profits from Enviu's venture building are reinvested into building new ventures, and maximising impact. Ankie joined Enviu with the strong belief that this model and these kinds of businesses, who use impact alongside profit as an indicator of success, have the potential to drive the economy towards a sustainable new normal.
When she joined Enviu the starting point for a solution was a thorough understanding of the problem, and the same is true today. Enviu does not build solutions that simply clean up the mess we've created, or alleviate damage done. Each and every business built is designed to tackle the problem at the root, correcting the initial market dysfunction where it first occurs.
Together with co-Managing Director Michiel Elich, Ankie formalized this process with the introduction of a programmatic approach to venture building. Rather than build one company to tackle one issue, Enviu sets up a venture building program dedicated towards solving the greater problems in a particular industry. Ankie understood that neither the world nor the economy are simple and rarely is an issue clear cut enough that one intervention alone can fix it.
"Take apparel. Pollution, waste and inequality are created at multiple points along the industries value chain, from cultivation and refinement towards production and retail. With the team we have created a program consisting of multiple businesses which intervene at key points in the value chain to create a wide reaching, system level solution. This is visible in the businesses that make up Reweave, they provide solutions to leather tanning, textile production, garment creation, and waste management. Four key interventions that together span the whole apparel value chain, correcting it at each instance it malfunctions."
Five years after Ankie's arrival, Enviu has vastly expanded its program portfolio. From its beginnings with Reweave's circular take on the apparel and textile industry, the studio has grown into five active programs, from zero-emission shipping and a zero waste food chain in East Africa, to financial inclusion and a plastics program in Indonesia and Malaysia.
Creating business through impact
To many, 'sustainable business' might sound a little like an oxymoron. After all, we are so often told that issues like climate change are driven by unrepentant businesses who put profit above all else. Though in cases this may be true, Ankie and Enviu know that not only does business have the power to correct our course and put us on a trajectory towards a better future, it is the most sustainable way of doing so. And no, this doesn't mean that businesses shouldn't be profitable, far from it.
---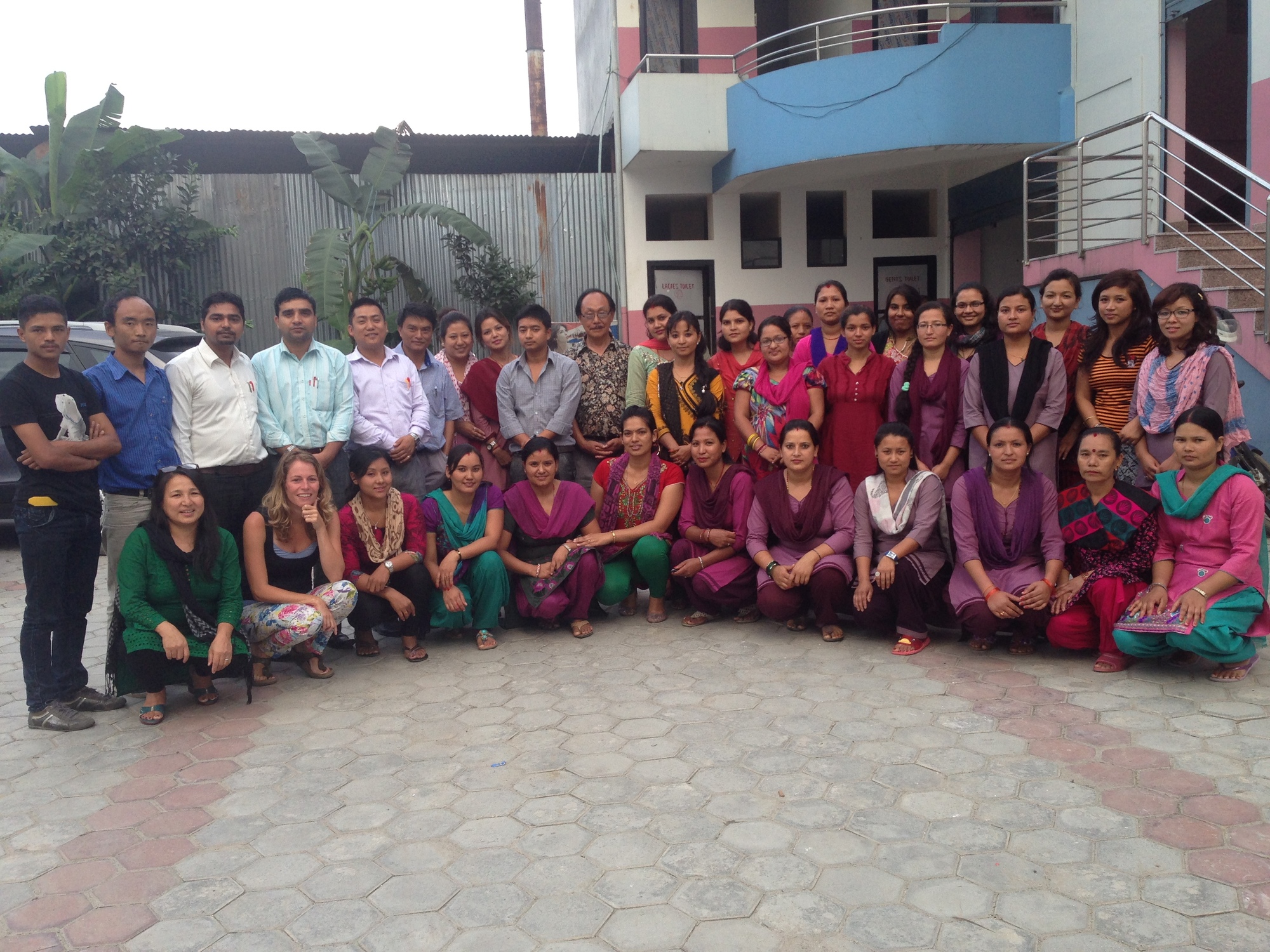 ---
As Ankie explains "a profitable impact business can exist as a self sustaining impact machine. Once funded and up and running, a business will self-sustain through profit and create impact indefinitely, long after the initial investment has dried up". Businesses need to be profitable and impactful businesses are no exception. Awareness of the potential of this model is growing and is today reflected in the rapid growth of the fields of venture philanthropy and impact investing.
Ankie believes in changing business priorities and mindset. "Too many businesses are not only failing to consider their social or environmental impact, they are actively externalising the cost of doing business on to society. As governments start to play a more active role in ensuring companies pay the actual cost of doing business (via legislation like the carbon tax) businesses will soon be forced to adjust to new models where impact is held in as high regard as profit. At Enviu, when we build world changing ventures, we're not only making it clear that there are business opportunities in doing this, but showing what those opportunities might look like."
To Ankie, this is what makes the work she does at Enviu so meaningful. She points to Enviu's venture Khaloom in India as an example of being able to profitably produce a beautiful product, whilst at the same time minimizing environmental impact and providing fair and meaningful work for its employees. At its essence Enviu's venture building is about creating both impact through business and business through impact.
This is the opportunity in sustainability
 Ankie points out that it's not just impact, but huge financial opportunities that await those willing to invest in or set up impact ventures. "In the field of plastics, The Ellen MacArthur Foundation calculated switching 20% of plastic packaging to reusables could yield an economic opportunity of $9 billion." She notes that as legislation will eventually require businesses to transition towards more sustainable practices, there is much to gain from early adopters and funders who embrace the transition early.
However, the difficult reality is that it is still hard for start-ups with an impact mission to secure funding when compared to traditional profit-driven businesses. A longer time to market and non-traditional risk-return profile mean that impact businesses struggle to attract investment. Furthermore, foundation capital is typically tied to rigid deliverables and difficult to make compatible with the testing, pivots and changes that are inherent to running a business.
In Ankie's time she has been fortunate enough to see a great willingness to embrace these differences in Enviu's key partners including the DOEN Foundation and IKEA foundation, who have supported Enviu's programmatic approach to impact venture building, aware of the dynamic and flexible nature of the work. However, more is still needed.
"If we're to create impact and seize the opportunity presented by this new way of doing business, we need more like minded funders and investors to come aboard and make the change happen."
It can't be done alone
 If we can do this alone, we're not dreaming big enough. "Anyone who knows Enviu" says Ankie "knows this phrase". Creating a new inclusive economy that serves people and the planet is a huge task and Ankie is aware that if she and Enviu claimed this could be done alone "we just wouldn't be telling the truth."
"We need corporates, funders, stakeholders, knowledge partners and entrepreneurs to come together" admits Ankie. "The problems of our time require great shifts in the way most businesses work. Today Enviu and its ventures are already having an outsized impact, but to create real, meaningful change these ventures, concepts and models must be taken to scale."
The work Enviu has already done would not have been possible had it not been for its partners who support the vision of a future driven by impactful business. "In the last few years alone, in addition to our traditional foundation partners we've seen an increase in large corporates getting involved, from major FMCGs joining our work with plastics in Indonesia to discussions with key players in the apparel market." Says Ankie. "We think this shows the way the wind is blowing. The question now for those not involved is, can you afford to wait?"